Handmade Originals
Inspired by centuries of elegant ornament in jewelry design.

Each piece in our collection is crafted with precision and attention to detail, using a blend of traditional techniques and modern tools—Striving to produce jewelry of the highest standards of quality and workmanship.

We hope to provide a truly exceptional experience by delivering jewelry and artwork that is not only beautiful, but timeless.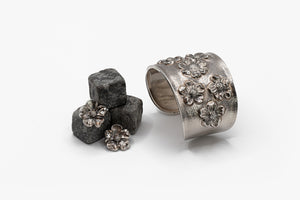 Curated Collections
We are pleased to announce that we now showcase a diverse range of talented artists and respected brands.

By offering our curated selection, we are able to provide new and exciting pieces that you may not have encountered before and support other talent.

From a 17th generation Chasing & Repoussé artist, to the many incredible colors of jade or 24k plated real roses, we invite you to explore these new offerings and discover something unique.
Featured Artist: Jewel Lab
Jewel Lab is a collaboration between Costa Rican designer and goldsmith Andrea Castillo and renowned Italian Master of Art Fabrizio Acquafresca.
We Accept The Goldback
Goldbacks are a fascinating new type of local, voluntary currency.
For All Occasions | 24k Rose Co.