1. Sketch
Each one of our handmade designs begins with imagination and a pencil--A time honored process that we practice daily.

Sketching requires patience, creativity and attention to detail. When working with gemstones, we are able to create a design that showcases the stones unique characteristics to highlight it's true beauty.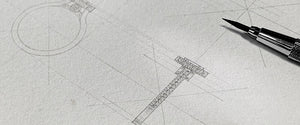 2. Render
Once the initial sketch is complete, the design is then rendered by hand in 3 separate angles. This step allows us to experiment with different combinations of metals, colors and stones to ensure the vision is appealing and harmonious.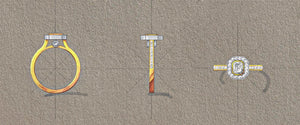 3. Forge
After the render is complete, raw materials are selected and the process of forging the piece begins. By pouring our own ingots and rolling the metals by hand, we have complete control over every detail of the design from start to finish.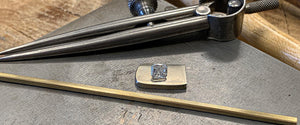 4. Heirloom
The unveiling of a new custom made piece of jewelry is an exciting and highly anticipated moment for us and the customer. As the piece is revealed, there is a sense of anticipation and wonder as you see the final product for the first time. Holding the piece, you can appreciate the detail, weight, temperature and textures as light plays off the design. This moment celebrates natures treasures as a beautiful heirloom.